About BRINC
John Brooks, President, BRINC BP, has over 25 years of experience in the insulation and construction industry, working for multiple manufacturers of both insulation, and wood products.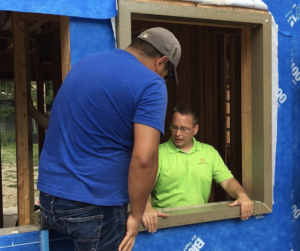 His inspiration for ThermalBuck came in 2011, when he was building his own home, and realized there had to be a better way to install windows than by building wood bucks. John was concerned about the wood warping and shrinking over time as the house aged, causing leaks in the multiple layers of flashing tape. He also wanted to solve the problem of thermal bridging, which was causing condensation to form in his walls.
With a great deal of persistence, and a 4 year period of trial and error, John realized his goal with the development of BRINC Building Products, Inc., and the introduction of ThermalBuck.
In 2020, BRINC BP introduced its complete high-performance wall system, the ThermalTight™ System.
Look to BRINC for more high-performance building envelope solutions in the future. 
---
ThermalBuck was launched in November of 2015, at Greenbuild International Conference & Expo, held in Washington, D.C. by the USGBC, where it was named one of the "Greenest of the Green" Top Ten Products of Greenbuild" by Building Green.
Click here to see more of our media coverage.
---
   1-888-814-2825 (BUCK)
  1270 Route 66 – New Bethlehem, PA – 16242
---